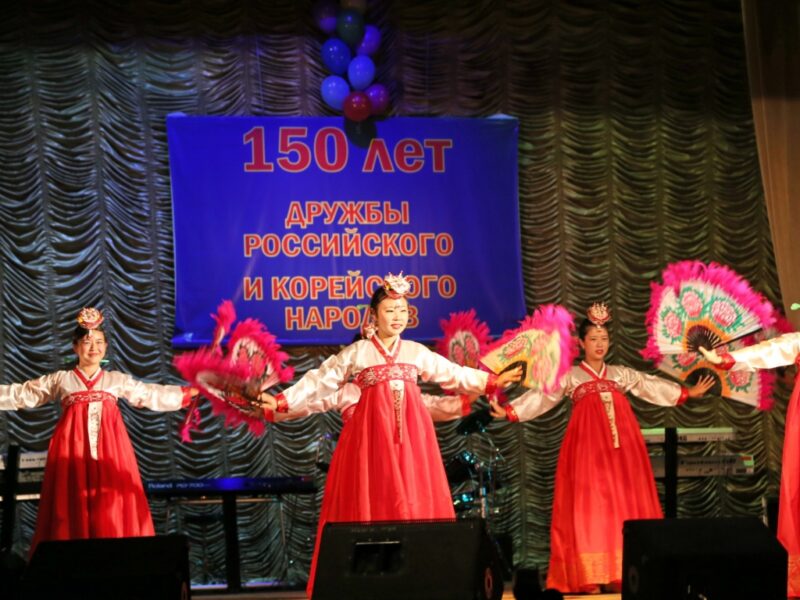 Celebrations dedicated to the 150th anniversary of the resettlement of Koreans to Russia were held in Vladivostok
4 Jun 2014
Viktor Gorchakov, Chairman of the Legislative Assembly of Primorsky krai had visited the event. According to him, the region is inhabited by representatives of more than 150 nationalities and it is necessary to ensure normal conditions for the life and development of people living in Primorsky region. (RIA PrimaMedia, press service of the Legislative Assembly of Primorsky Krai.)
Association of Korean organizations of Primorsky krai had become the organizer of celebratory evening, which was held in the Fleet Officers House.
Creative teams from the DPRK, Russia, the Republic of Korea and Yanbian Korean Autonomous Prefecture (China) took part in the performances. They demonstrated Korean songs and dances.
"Many years have passed since the Korean people began to settle in Russia. It was difficult years. But I believe that, in general, when we retrace the history, appreciate the relationships that has developed between the representatives of the Korean nation and Russians, we can make a conclusion that such experience of inter-ethnic relations deserves a great respect.
Our region is inhabited by representatives of over 150 nationalities, and the main task facing the regional administration and the Legislative Assembly – is to provide normal conditions for the life and development of people living in Primorsky region. Korean Diaspora in Primorsky krai is one of the largest in Russia. I believe that it is important to build friendly relations between people of different nationalities ", – said Victor Gorchakov.
Viktor Gorchakov has also noted that relations between the representatives of business structures of Russia, the DPRK and the Republic of Korea is actively developed. "Not long ago, new railway Khasan-Rajin was opened – said the speaker of the
Primorsky Parliament – there are working a lot of builders and agricultural workers from the DPRK in Primorsky region. We also develop projects with representatives of the South Korean businesses. All of this is aimed at normalizing and building good-neighborly relations in order to create an optimistic future. "
"I am very glad that today, we all together celebrate the 150th anniversary of the resettlement of Koreans in Russia, – said Consul General of the DPRK in Nakhodka Im Chon Il – In the past, Russia has made a lot of important and useful things for our citizens in different areas: politics, economy, culture , education and health. The Koreans are actively involved in various areas of social life in Russia. They have made and continue to make a major contribution to the prosperity and development of Russia and Primorsky region. "
Valentin Pak, Chairman of the Association of Korean organizations of Primorsky Krai has also expressed his congratulations related to the 150th anniversary of the resettlement of Koreans in Russia.
Primorsky Regional Philharmonic hall also held a concert of traditional Korean music and dance, organized by the Consulate General of the Republic of Korea in Vladivostok in honor of celebration of the 150th anniversary of the resettlement of Koreans to Russia.
Source – primamedia.ru